Shopping Cart
Your Cart is Empty
There was an error with PayPal
Click here to try again
Thank you for your business!
You should be receiving an order confirmation from Paypal shortly.
Exit Shopping Cart
| | |
| --- | --- |
| Posted on 13 August, 2015 at 9:24 | |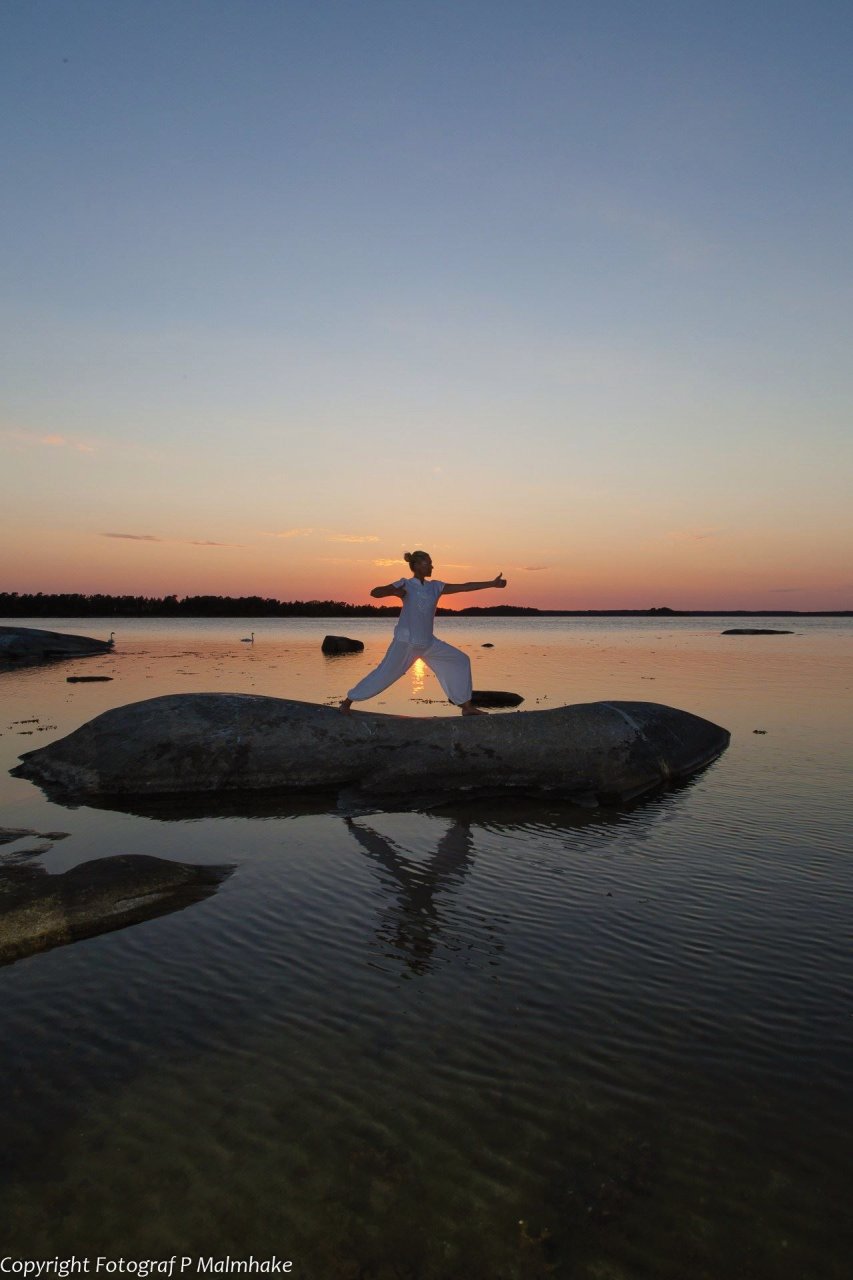 Yogan och ayurvedan
innefattar hela spektrat av vad det innebär att ha fått ett liv som människa -
från vad den blivande mamman kan kan göra för sig och sitt barn till ålderdomen och dess gåvor. 
Ord av vishet om hur vi kan förhålla oss och
se på livet och vad som är viktigt, även kostråd som stödjer energin genom olika åldrar och omständigheter,
rörelser och andning för kropp och knopp. Och det fina är att man tar till sig det
som känns relevant och funkar.
Här är tre övningar som är speciellt bra för att stärka upp
sitt nervsystem inför någon situation som kan bli utmanande:
* Bågskytte ställning: Fötterna brett, vrid åt hö, böj hö knä, ta sikte, öppen
bröstkorg, fingrar inböjda tummar uppspända, fokusera blicken på hö tumme,
1-3 min Använd mantra eller positiv affirmation som "jag är lugn och stark"
* Triangel ställning: Kom ned på alla fyra, tryck ned hälarna lyft stussen upp,
pressa hälarna ned mot golvet med raka ben, rulla armhålor inåt raka armar,
andas långa djupa, 1-3 min
* Sträckställning: Ligg på rygg, lyft båda ben ca 10-15cm raka ben sträckta fötter,
lyft huvud fokusera på stortår, långa djupa eller eldandning, 1-3 min Variant:
händerna som stöd under stussen, lyft båda eller ett ben i taget
* Andning för att boosta immunsystemet: Sitt i klippställning, andas in djupt
genom näsan och håll andetaget, pumpa magen tills du känner du behöver andas
ut, ta ett nytt andetag och fortsätt så,  1-3 min
Tänk också på att immunförsvaret beror på hur starka och balanserade vi är.
Egentligen är vi utsatta för bakterier och virus konstant som vårt immunförsvar
kan hantera, men om vi inte tagit hand om oss eller hanterat stress så blir
vi sjuka och får t ex förkylningar. I kroppen pågår också andra processer som
vi inte tänker på som handlar om att ta hand om bl a toxiner, kemikalier,
ovälkomna organismer. Din kropp jobbar med andra ord 24/7 för dig, så
gör vad du kan för att stödja den i dess arbete.
Appropå förkylningar så rekommenderar jag detta ayurvediska recept för
hosta med slem och även astma känningar:
* två koppar vatten kokas med en skivad gul lök, reducera till ca en kopp
* sila bort löken, blanda i en halv tesked svartpeppar och en tesked honung
* drick vid behov cirka 3-6ggr dagen, större sats kan göras för att räcka längre
Lök är antibakteriellt, svartpeppar likaså samt slemlösande, honung är
också antibakteriellt och antiviruellt samt lenar inflammation, dessutom
verkar det hjälpa bronkerna så att slem kan transporteras upp och andningen
blir lättare.
Jag har talat lite om miljön i det inre rummet. Våra tankar och känslor skapar
klimatet i det inre, vår personlighet, hur vi omedvetet betraktar oss själva och
omvärlden. När man inser vikten av hur vårt tankebabbel påverkar oss så
förstår man hur viktigt det är att medvetet börja jobba med den inre miljön,
eller som William Shakespeare så intelligent uttryckte det "att vi är våra egna
inre trädgårdsmästare". Vilka fina blommor vill du se i din trädgård, vilka
frön ska ges näring, och vad behöver dras upp och ut. Därför kallar jag lite
skämtsamt meditation för
mental hygien – likväl som de flesta av oss duschar för att hålla oss rena
och fina fysiskt så är det bra att ta ansvar för sin mentala hälsa genom
meditation och att bli mer observant på om det egna tankemönstret
är stödjande eller tärande. 
En stor anledning till hur vi agerar och reagerar beror på vår energi nivå just
vid tillfället. Stress, dålig kost, elektronisk överstimulering, och relationer
som taxerar, kan vara några orsaker som drar ned orken och humöret. Därför
är balansen i livet så viktig, att stadigt stå med två ben och behålla sin
styrka. Yoga betyder just helhet och balans, och är ett kontinuerligt instrument
för att hela tiden återkomma till den naturliga harmonin. Under höstterminen 2015
kommer jag också gå igenom vad emotionell hälsa är och hur yoga och ayurveda
kan hjälpa oss.
"A day well lived, is a vision of hope for tomorrow"
Ha en fortsatt fin sommar!
Siri Simran
Categories: Emotionell hälsa
/